About the University
Miskatonic University is a small liberal arts college located in beautiful Arkham, Massachusetts. It takes its name from the nearby Miskatonic River. Over the centuries, Miskatonic University has developed a rich history of tackling arcane subject matter and inner exploration. Though the knowledge we pursue is ancient beyond words, we prize state-of-the-art technologies. Our storied ambiance provides a mind-broadening background to our challenging learning environment, and promises unique rewards.
Academics
At Miskatonic University, the Robert Harrison Black College of Arts and Sciences is renowned for the quality of its scholarship. Our low student-to-faculty ratio allows each individual student the freedom to tailor their course of studies in pursuit of their dreams, leading to a lifelong journey of learning and self-discovery. The courses offered at Miskatonic University cover a vast range of human knowledge and beyond, and our teaching faculty excels at helping students achieve their untapped potential. Undergraduate students have the opportunity to pursue a major in many subject areas, including some you wouldn't find anywhere else.

Miskatonic University also offers first-rate research opportunities for students and faculty. From repositories of ancient lore, to state-of-the-art laboratories, our research facilities are an essential tool in our ardent pursuit of knowledge. But Miskatonic University's strongest asset is the sentient beings, faculty and students alike, who discover that knowledge. From the outer edges of the cosmos to the innermost reaches of the mind, our researchers' piercing insight and ceaseless work have yielded many groundbreaking results that changed the world forever, and the world recognizes our research efforts in turn. Many Miskatonic University faculty and alumni are distinguished scholars in their fields, including 37 Nobel Laureates (3 Alfred, 34 Ig), 13 Pigasus Award winners, and a 2015 Hugo Award nominee.

Student Life

The Asenath White Office of Facilities and Student Life is dedicated to providing students with an unforgettable experience on campus. The Office of Facilities and Student Life oversees the maintenance of student residences, dining facilities, athletic fields, and other campus spaces not covered by the College of Arts and Sciences. Additionally, Student Life officers work hard to bring performances, festivals, forgotten rituals, and other special events to campus, often in partnership with the town of Arkham. At our dining facilities, students enjoy a wide range of options, from traditional New England cuisine to fantastical concoctions from afar. The Miskatonic University athletic teams, affectionately known as the 'Pods, compete in 17 sports at the NCAA Division II level. And whether they choose to live in a residence hall or a fraternity house, students will quickly form close connections with their hallmates. By the end of your first semester at Miskatonic University, you will probably find your BFF, your soulmate, your mortal enemy, your doppelgänger, and many other close friends. After graduation, the members of the greater Miskatonic community enjoy networking opportunities, reunions, and alumni seances – no matter how long ago you studied at Miskatonic University, you never really leave.

Our Campus

The campus of Miskatonic University is located in the heart of Arkham, a historic town in northern Massachusetts. The storied Miskatonic River runs through part of the campus, with several academic buildings overlooking its banks. With some campus buildings dating back to the 17th century, the architecture is a memorable fusion of the past, present, and future of New England. We encourage prospective students to schedule a campus visit and see Miskatonic University firsthand, but until then, you can use the map shown below to explore the campus.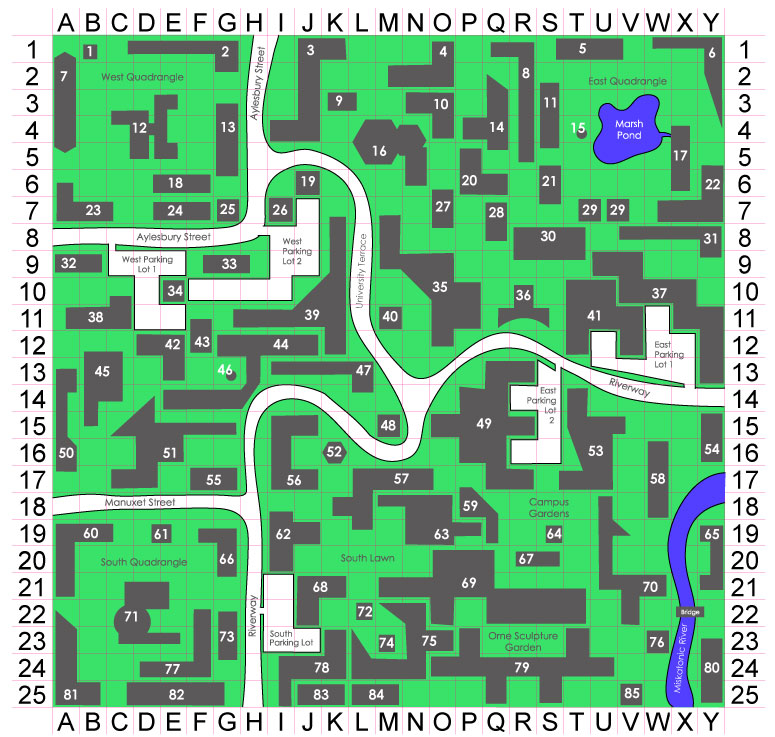 Download a printer friendly version of the map.
Notes:
A&S: Robert Harrison Black College of Arts and Sciences

F&SL: Asenath White Office of Facilities and Student Life

Building numbers are provided for identification purposes only.



Looking for a particular feature? Click the column headings to sort the table.

| | | | |
| --- | --- | --- | --- |
| # | Division | Campus Feature | Coordinates |
| 1 | A&S | Rare Manuscript Containment Bunker | B1 |
| 2 | A&S | Warren Rice Center for Comparative Linguistics | C1, D1, E1, F1, G1, G2 |
| 3 | A&S | Organic Chemistry Laboratories | J1, K1, J2, J3, I4, J4 |
| 4 | A&S | Inorganic Chemistry Laboratories | O1, M2, N2, O2 |
| 5 | A&S | Biology Lecture Hall | S1, T1, U1, V1 |
| 6 | A&S | Cryptid Vivarium | W1, X1, Y1, Y2, Y3, Y4 |
| 7 | A&S | Henry Armitage Humanities Library | A1, A2, A3, A4, A5 |
| 8 | F&SL | Fraternity Row | Q1, R1, R2, R3, R4, R5 |
| 9 | A&S | Curwin Center for Pure & Applied Alchemy | K3, L3 |
| 10 | F&SL | Fliguer Dining Hall | N3, O3, O4 |
| 11 | A&S | Microbiological Research Laboratories | S2, S3, S4, S5 |
| 12 | A&S | Richard Upton Pickman Portrait Gallery | C3, D3, E3, C4, D4, E4, C5, D5, E5 |
| 13 | A&S | Center for Journalism | G3, G4, G5, G6 |
| 14 | A&S | Hyperorganic Chemistry Laboratories | Q2, Q3, P4, Q4, Q5 |
| 15 | F&SL | Memorial Gazebo | T4 |
| 16 | A&S | Observatory & Planetarium | L4, M4, N4, L5, M5, N5, N6 |
| 17 | F&SL | Underground Natatorium | X4, X5, X6 |
| 18 | F&SL | Open Stage & Karaoke Bar | D6, E6, F6 |
| 19 | A&S | Study Carrels & Isolation Booth | J6 |
| 20 | F&SL | The Strange Coffee House in the Mist | P5, P6, Q6 |
| 21 | A&S | High-Security Research Annex | S5, S6, S7 |
| 22 | A&S | Botanical & Mycological Conservatory | Y5, Y6, W7, X7, Y7 |
| 23 | A&S | Herbert West Animation Studios | A6, A7, B7, C7 |
| 24 | A&S | Center for Creative Writing | D7, E7, F7 |
| 25 | A&S | Center for Coherent Writing | G7 |
| 26 | A&S | Isolation Booth & Study Carrels | I7 |
| 27 | A&S | Astronomy Lecture Hall | O6, O7, O8 |
| 28 | A&S | Astrology Lecture Hall | Q7, Q8 |
| 29 | A&S | Centers for Cloning Research | T7, U7, V7 |
| 30 | F&SL | Arkham Arena | R8, S8, T8, R9, S9, T9 |
| 31 | F&SL | Miskatonic Field House | V8, W8, X8, Y8, Y9 |
| 32 | A&S | Media Studios | A9, B9 |
| 33 | A&S | Graphic Art & Design Studios | F9, G9, H9 |
| 34 | A&S | Ceramics Workshop | E10 |
| 35 | A&S | Center for Interplanetary Science | M7, M8, M9, N9, O9, N10, O10, P10, O11, P11, O12 |
| 36 | A&S | Optics Laboratory | R10, Q11, R11, S11 |
| 37 | A&S | Old Waldron Center for Orthopedics & Sports Necromancy | U9, V9, V10, W10, X10, X11, Y11, Y12, Y13 |
| 38 | A&S | Sculpture and 4D-printing Studio | C10, A11, B11, C11 |
| 39 | A&S | Erich Zann Performing Arts Complex | K7, K8, K9, J10, K10, G11, H11, I11, J11, K11, K12 |
| 40 | A&S | Black Box Theater | M11 |
| 41 | A&S | Forensic Laboratory | T10, U10, T11, U11, V11, T12, V12 |
| 42 | A&S | Visual & Performing Arts Lecture Hall | D12, E12, E13 |
| 43 | A&S | Quantum Tunnels | F11, F12 |
| 44 | F&SL | Howard Residence Hall | G12, H12, I12, J12, H13, E14, F14, G14, H14 |
| 45 | F&SL | Phillips Residence Hall | B12, C12, B13, C13, B14, C14, B15 |
| 46 | A&S | Microcyclotron | G13 |
| 47 | A&S | Phrenology Laboratories | I13, J13, K13, L13, L14 |
| 48 | A&S | Center for Experimental Epistemology | M15 |
| 49 | A&S | Office of Academic Services | Q13, R13, P14, Q14, O15, P15, Q15, R15, P16, Q16, Q17, R17 |
| 50 | A&S | Actually Infinite Corridor | A13, A14, A15, A16, A17 |
| 51 | A&S | Robert Olmstead New England Heritage Institute | D14, C15, D15, E15, F15, G15, D16, E16, C17, D17 |
| 52 | A&S | Randolph Carter Center for Experimental Oneironautics | K16 |
| 53 | A&S | Research Hospital & Student Health Services | T14, T15, U15, V15, T16, U16, S17, T17, U17 |
| 54 | A&S | Allen Halsey Medical Library | Y15, Y16 |
| 55 | A&S | Antiquarian Lecture Hall | F17, G17 |
| 56 | A&S | Horatio Kharon Cognitive Science Institute | I15, J15, I16, I17, J17 |
| 57 | A&S | Walter Gilman Non-Euclidean Center for Mathematics | L17, M17, N17, O17, K18, L18, L19 |
| 58 | A&S | Hall of Philosophical Inquiry | W16, W17, W18 |
| 59 | A&S | Informatics Lecture Hall | P17, P18, Q18, Q19 |
| 60 | A&S | Barnabas Marsh Transoceanic Commerce Institute | A19, B19, C19, A20, A21 |
| 61 | A&S | Institute for the Preservation of Outdated Systems | D19, E19 |
| 62 | A&S | Public Policy Institute | I18, I19, J19, I20 |
| 63 | F&SL | Student Union | M18, N18, O18, N19, O19, P19 |
| 64 | A&S | Weather Research Station & Control Center | S19 |
| 65 | A&S | William Dyer Earth Science Lecture Hall | Y19, Y20, Y21 |
| 66 | A&S | Lavinia Whateley Lecture Hall | F19, G19, G20, G21 |
| 67 | F&SL | Greenhouse & Extraterrarium | R20, S20 |
| 68 | A&S | Doris Horus Science Library | J21, K21, J22 |
| 69 | A&S | Institute of Transformative Studies | O20, P20, Q20, M21, N21, O21, P21, Q21, R21, S21, T21, O22, Q22, R22, S22, T22 |
| 70 | A&S | Center for Hypercomputational Research | U18, U19, V19, U20, U21, V21, W21, V22 |
| 71 | A&S | Institute for Progressive Change | C21, D21, E21, C22, D22, E22, C23, D23, E23 |
| 72 | A&S | Anna Tilton Living History Museum | L22 |
| 73 | A&S | Department of Economics Lecture Hall | G22, G23, G24 |
| 74 | A&S | Frances Morgan Resurrected History Museum | M23 |
| 75 | F&SL | Gilman House Dormitory | M22, N22, L23, N23, O23, L24, M24, N24 |
| 76 | A&S | Forbidden Artifact Collection | W23 |
| 77 | F&SL | Keziah Residence Hall | F22, F23, D24, E24, F24 |
| 78 | A&S | Departments of Anthropology & Archaeology | K23, I24, J24, K24, I25 |
| 79 | A&S | Perfectly Normal Public-Facing Facade | P23, T23, O24, P24, Q24, R24, S24, T24, U24, Q25, S25 |
| 80 | A&S | Visitor Research Center | Y23, Y24, Y25 |
| 81 | A&S | Center for Cultural Studies | A22, A23, A24, A25, B25 |
| 82 | A&S | Center for Cultural Prognostication | C25, D25, E25, F25, G25 |
| 83 | F&SL | Featureless Monolith | J25, K25 |
| 84 | A&S | Graduate Research Shack | L25, M25 |
| 85 | A&S | Remote Sensing Facility | V25 |
| N/A | A&S | Obed Marsh Research Pond | U3, V3, W3, U4, V4, W4, U5, V5, W5 |
| N/A | F&SL | East Quadrangle | |
| N/A | F&SL | West Quadrangle | |
| N/A | F&SL | South Quadrangle | |
| N/A | F&SL | South Lawn | |
| N/A | F&SL | Campus Gardens | |
| N/A | F&SL | Eliza Orne Sculpture Garden | |
| N/A | F&SL | West Parking Lot 1 | |
| N/A | F&SL | West Parking Lot 2 | |
| N/A | F&SL | East Parking Lot 1 | |
| N/A | F&SL | East Parking Lot 2 | |
| N/A | F&SL | South Parking Lot | |
| N/A | F&SL | Riverway | |
| N/A | F&SL | Manuxet Street | |
| N/A | F&SL | University Terrace | |
| N/A | F&SL | Aylesbury Street | |